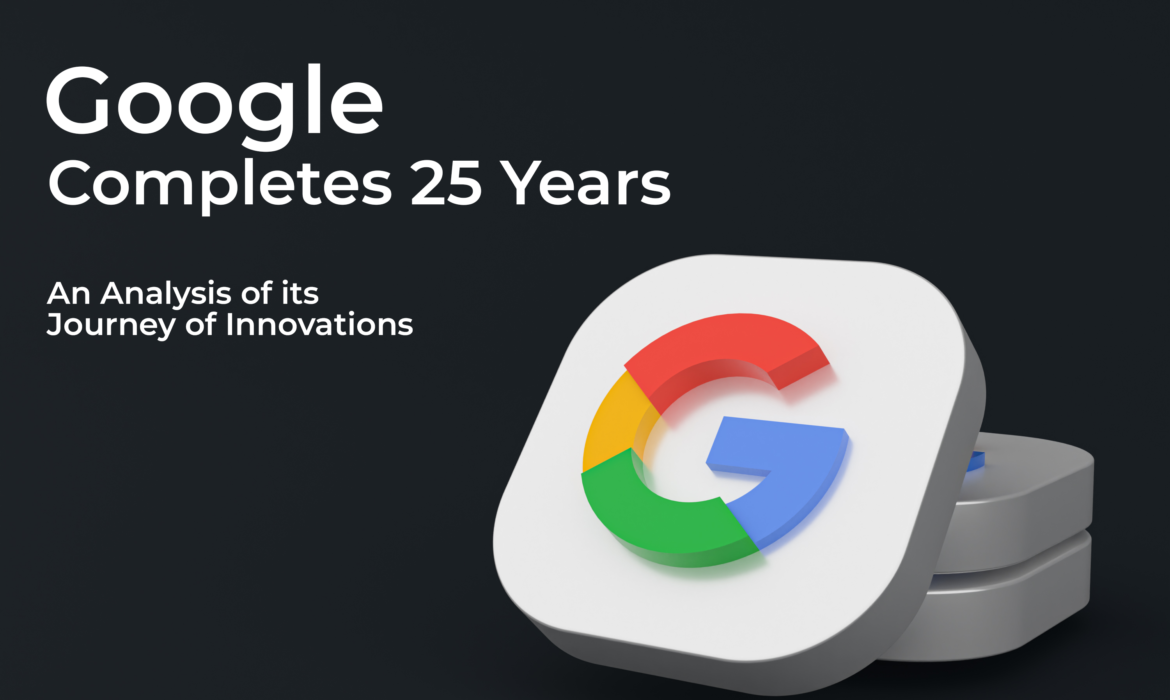 As Google turns 25, we are taking a deep dive into the things it did right and how top-notch digital marketing agency in the USA and across the globe are benefitting from it.
The internet has brought almost every person together and provides a sense of community on a very large scale to a great number, simultaneously. And with that, Google has only evolved from a dorm room's search engine to an unmatchable mammoth of artificial intelligence, online advertising, search engine technology, cloud computing, computer software, quantum computing, e-commerce, consumer electronics, and whatnot.
With the advent of Google, search programs like Lycos and AltaVista were providing limited information to the user, that too a comparison of the entered terms from its database. Google has elaborated that, adding more information to its database and facilitating the user with a simplified search process. Over time, it has consistently overseen and managed its operations to ensure ongoing growth and enhancement for user convenience. That is why we also come across businesses and brands taking assistance from digital marketing agency and SEO Company to bank on the algorithm of the search engine and amplify their growth.
So what made a search engine, the go-to destination for every second person on the planet? Let's have a look:
Better Speed: Google's speed to show results related to any topic exceeds other search engines by 5 to 10 times. The average time it takes is as low as 0.38 seconds which it also boasts at the top of the search results from time to time.
Result Relevance: Results shown on Google's search engine result pages (SERPs) have more relevance than any other search engine. Moreover, its search portal's page is more simplified as compared to any of its competitors and becoming more appealing day by day.
Colossal Directory: The search engine portal can facilitate the user with more than 25 million websites that it has curated over these two and a half decades. 25 years ago, accessing such huge data was just a mere dream but Google gave life to it.
Expanding Horizon: It might have started operations with a single focus in mind, to cater to search-related queries. But today, Google has gone beyond all those limitations and started exploring other aspects like product development, a better A/B testing framework, and investing in data center technology, while also keeping the search engine at the epicenter.
Over the years, Google has evolved into a better version of itself, catering to the needs of businesses and brands just like a regular user. Let us analyze how digital marketing agencies are banking on Google's SEO, PPC, and other similar features.
1. Google My Business: If you own a business or a brand, you have to enlist it under Google's "Google Business Profile" to become more authentic and be easily accessible to your potential customers who might be interested in your offerings.
2. Search Engine Optimization (SEO): We know that Google is the search engine that is extensively used across the globe, with an enormous user base. This usually means that if a business or brand optimizes its digital marketing efforts as per Google standards, it has the potential to globally reach a massive audience.
3. Google Advertising: Formerly known as Google AdWords, Google Ads provides every business on the digital landscape to bank on this paid advertising feature. It enables them not just to maximize the potential of highly targeted ads visible in search results but also across websites and on mobile apps. This precise targeting can result in advertising campaigns that are both more effective and budget-friendly.
4. Always Young YouTube: The video-oriented platform is the world's largest video-sharing medium that has reached a massive global audience. Ad agencies are utilizing its video marketing feature to reach the target audience in an interactive as well as visually attractive manner. You must have come across the recent YT ads which are not just AI-integrated but also demographically centered.
5. Google Trends: Ad agencies and marketing companies are using the web-based tool, Google Trends, for the concentrated purpose of monitoring and analyzing search trends, topics, and terms with time. They also get an insight into how often a particular keyword or phrase is searched on Google's search engine.
6. Shopping on Google: Google also introduced this shopping feature on the search engine where the user who is looking for options to buy, can find the top results from e-Commerce sites. It plays a significant role for not just these portals (e-commerce) by showing their best offerings at the top of SERPs but also for the user who is looking for the best option.
7. Google Analytics: This free tool is provided by Google only, which digital marketing agencies in not just the USA but across the globe have confidence in. It enables them to monitor website traffic, assess user behavior, and comprehensively examine conversion rates. It is crucial for making informed marketing decisions and optimizing campaigns.
8. Innovation at Every Step: Consistently, Google strives to improve user experiences by introducing advanced tools and technologies that hold long-term benefits for digital marketers and businesses. Therefore, keeping abreast of Google's most recent offerings can provide marketers and businesses/ brands with a competitive advantage.
To give you an outline, the widespread ecosystem of tools provided by Google, its dominant position in online search, and its unstoppable frenzy to keep innovating make it a keystone for any business or agency's digital marketing strategies for that matter. Companies that harness Google's capabilities proficiently can boost their online visibility, connect with their intended audience, and achieve exclusive outcomes from their digital marketing endeavors.
Today, on 27th September 2023, as this California-based MNC and search engine giant completes 25 years in the arena of the digital world, we at SkyTrust wish you a Happy 25th Anniversary, Google!