The beginning of email marketing marked the advent of the modern communication
era. Its strategies have been constantly changing over the years, but still, it remains
one of the most important ways of marketing. A good email marketing company
knows how to outperform the other marketing tools like SEO, PPC, content
marketing, etc.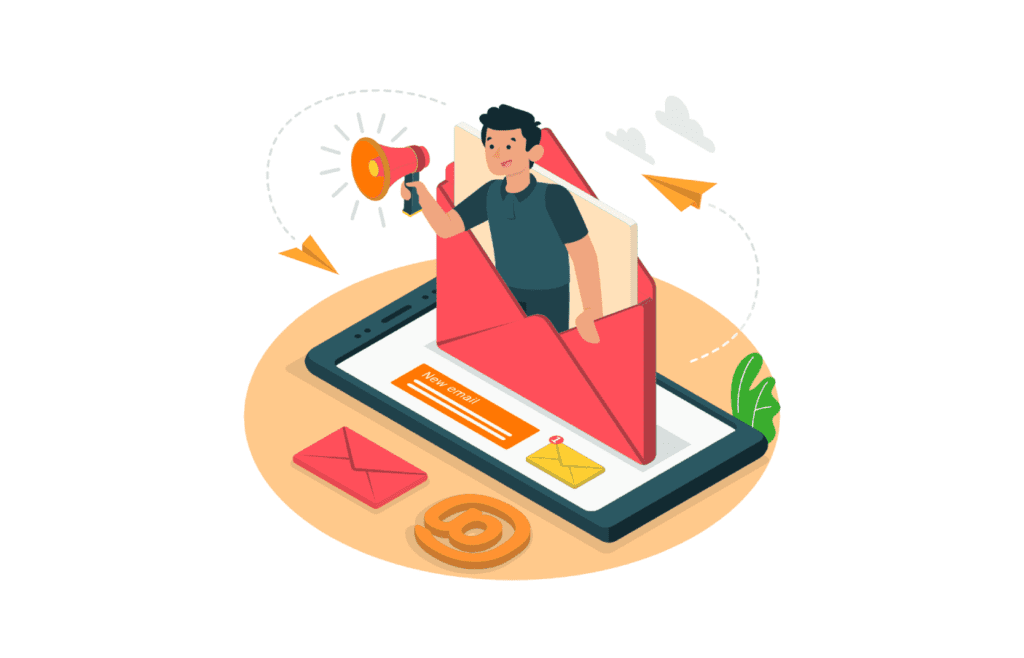 What is Email Marketing?
Gary Thuerk, a marketing manager at Digital Equipment Corp sent the first
unsolicited bulk email in 1978 to around 4000 prospects, giving rise to the concept
of email marketing. It holds much greater value than sending email messages.
Bulk email marketing services are the best way to inform customers about the
company's latest updates, services, and innovations. B2B email marketing service
builds an essence of trust among customers towards the company and is the best
way to enhance direct sales and give rise to brand awareness.
As per research, around 40% of B2B marketers prefer email newsletters as a good
option for success and about 73% of millennials prefer business communications only
via emails. Additionally, about 99% of consumers check their inboxes on a daily
basis, allowing email marketing to be the best way to reach individuals and
corporates.
Benefits of email marketing
In a world where social media is thought to be the king, email marketing holds its
importance. It is undoubtedly the best way to manage the growth of
your business. We, as an Email Marketing Services Company, assure to fulfill the
three basic objectives of increased conversions, brand awareness, and developing
customer loyalty for your business.
It gives a direct entry into the customer's inbox and the software also automates all
the manual workflow of group segregation, list preparation, feedback reports, etc. It
also gives the advantage of communicating with the right people at the right time.
Only an email marketing specialist knows the perfect way to generating
relevant traffic to your website, increasing leads by running cost-effective and
timely campaigns and provide value to your customers.
Email marketing tools
Front – The Front is a customer-centric email marketing solution. Being a good
customer communication hub, it helps in generating revenue through its email
marketing service. It has an interface similar to that of an email marketing client,
where you can run campaigns targeting defined customers.
Building emails, their processing, testing, and final execution is
just a matter of some minutes with DotMailer. Its user-friendly interface
makes the automation tool an easy enterprise solution to let SMEs and other
large organizations manage their emails efficiently.
MailChimp is one of the most popular email marketing tools. It
features access to unlimited emails per month and also provides built-in
templates for newsletter design. It is the best tool when it comes to handling
email volumes and analyzing post-campaign data. We, as an email marketing
firm, consider MailChimp as one of the best tools to manage customer
information, leverage data, and create effective marketing campaigns. It also
features other major services like spam filter, social sharing, merge tags, etc.
A popular email marketing automation solution that benefits the
users of its drag-and-drop facility. It is an apt platform for inbound marketing
that also provides a budget calendar, loyalty marketing, and event marketing,
as its key features.
EmailGreen is an integrated email marketing and CRM
platform that helps boost sales, and improve marketing techniques and
operations. It is the best email marketing service, especially for SMEs, to
reach their desired customers at the earliest. This tool provides an easy way
to manage contacts, optimize social media channels and create and execute
email campaigns, hence driving faster results.
iContact is one of the most promising marketing automation tools
that help in enhanced lead generation for ease in project completion. Its
email marketing software tools such as list management, segmentation, A/B
testing, social media management, and analytics facility help in
generating funnel reports.
All-round marketing software that provides various
services like social media marketing, contact management, email marketing, and marketing automation. ActiveCampaign allows email split testing and
sales CRM. With the integration of additional 150 apps, this tool has extended
its functionality to sales and service