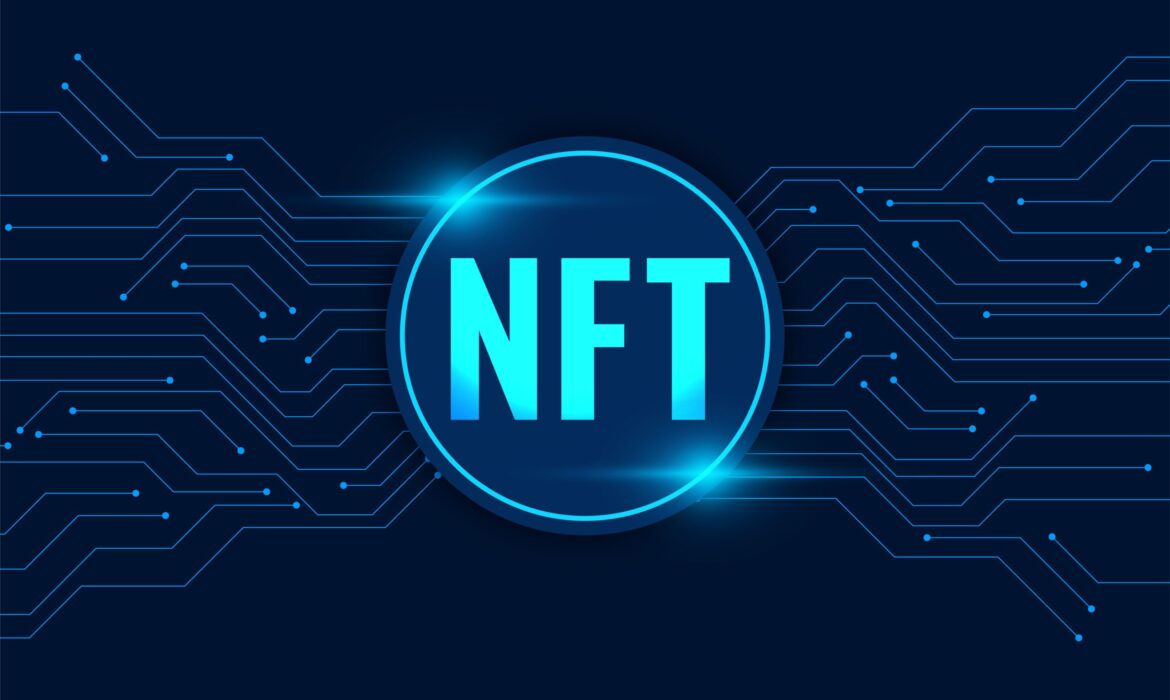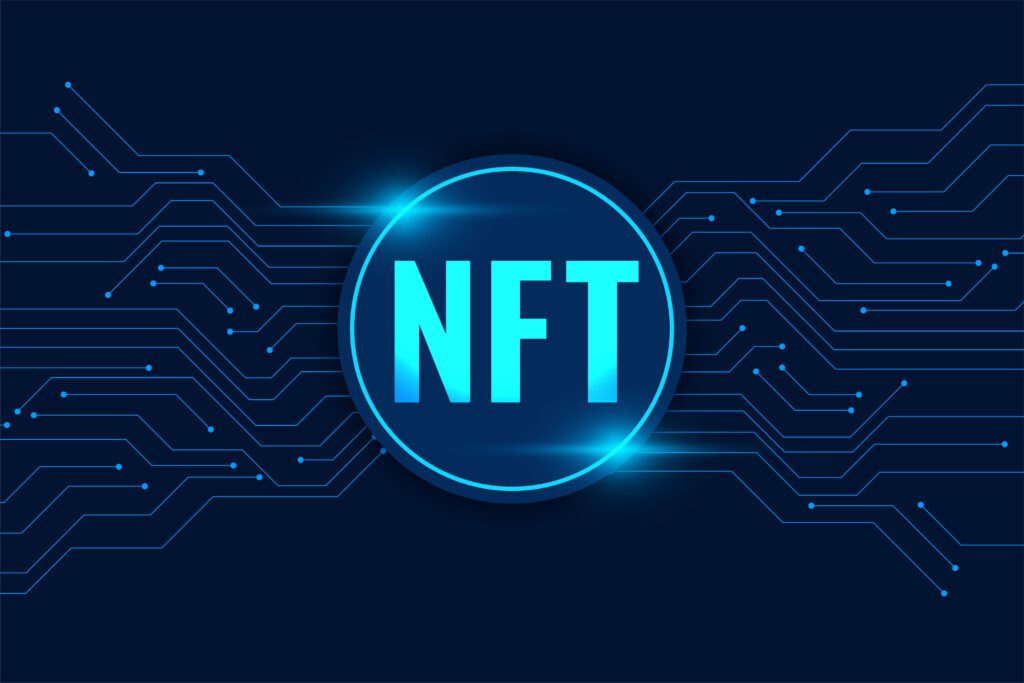 Exploring the Realm of NFT Marketing
Since the inception of modern technology, our perception of marketing and advertisement has taken a complete 360, especially since the introduction of NFTs. Nowadays, companies have started amalgamating NFT marketing strategies and services into play, which has led to an increase in returns, but the question that still boggles is – how?
Table of Contents
What are NFTs?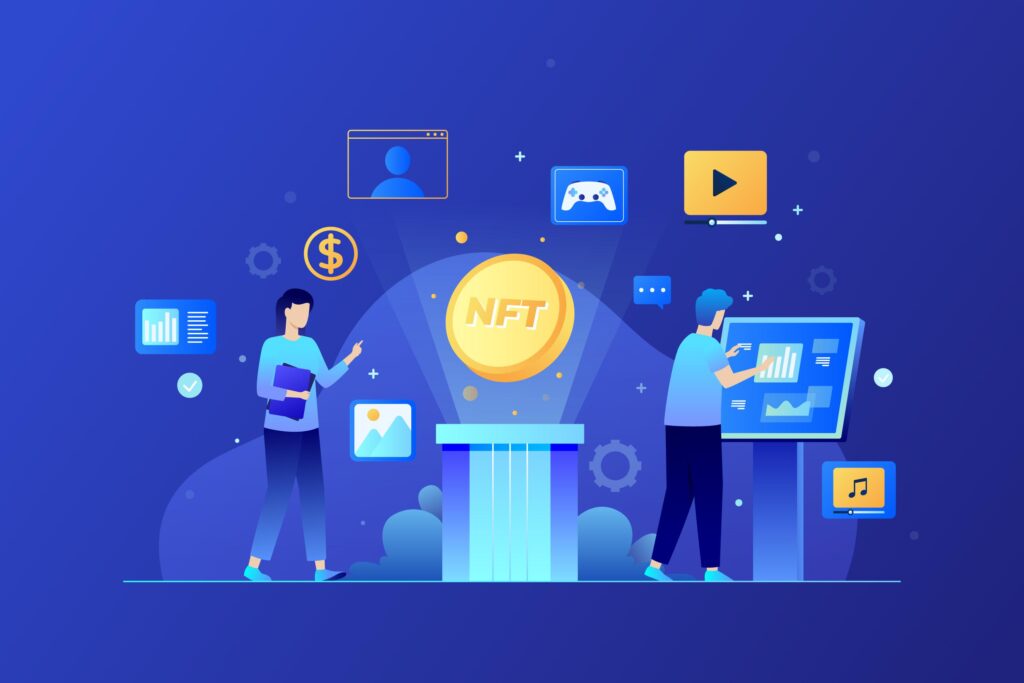 Non-fungible tokens (NFTs) are digital assets transformed into unique, indivisible units using blockchain technology. By assigning distinctive identification codes and metadata, NFTs stand apart from other tokens, allowing for their authentication and ownership verification.
NFTs have gained prominence due to their ability to be bought, sold, and traded for monetary value, cryptocurrencies, or other NFTs.
The perceived worth of an NFT is determined by the market demand and the subjective valuation of its holders. As an example, imagine creating a token representing an image of a banana on a digital exchange. While some individuals may be willing to pay exorbitant amounts, valuing the NFT in the millions, others may consider it utterly worthless.
It's important to note the distinction between NFTs and cryptocurrencies. Cryptocurrencies are also tokens, but the key difference lies in their fungibility. Two cryptocurrencies originating from identical blockchains can be exchanged on a one-to-one basis since they possess similar values and properties. However, even though two NFTs may appear identical on the surface, they remain non-interchangeable. Each NFT carries its unique identity and cannot be substituted with another NFT, adding to its individuality and scarcity. At this point, we are sure that you know what does NFT mean? So now, let's take a look at how they are created.
How to create an NFT?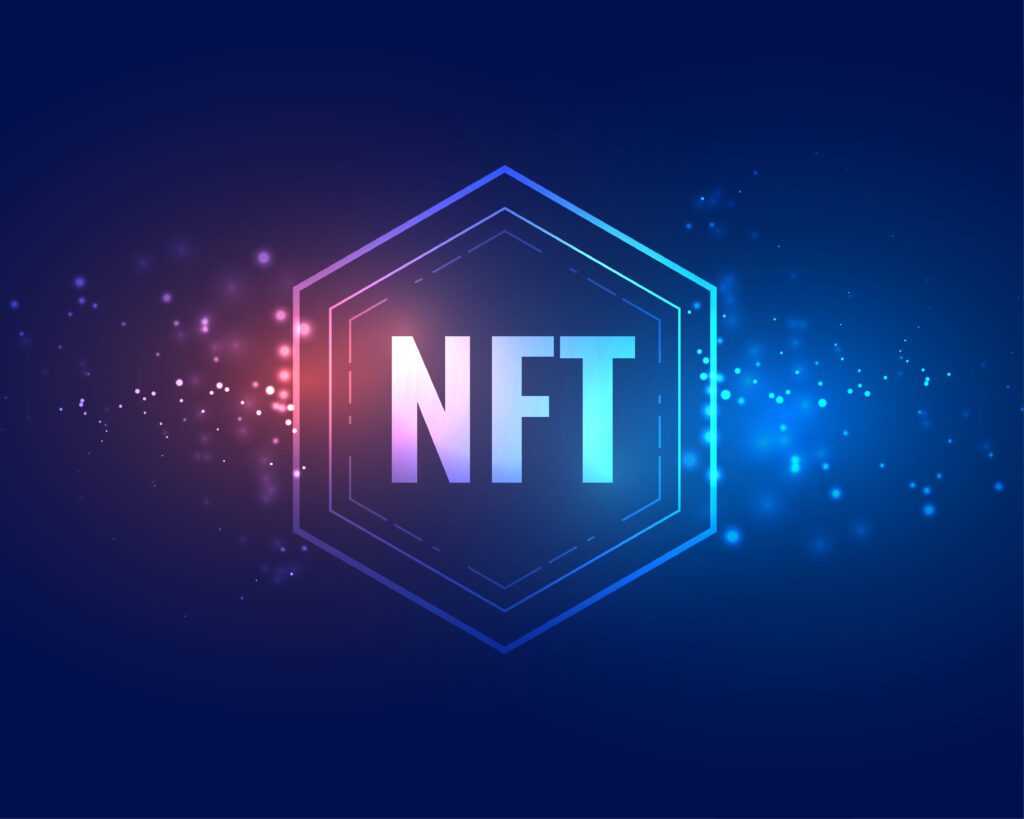 The surge in popularity of these unique digital assets within the cryptocurrency realm has been remarkable, attracting billions in trading volume and garnering widespread attention through endorsements from renowned personalities. With NFTs taking center stage in mainstream media, it's the perfect time to explore how to make NFTs and become part of this innovative trend. Creating your NFTs is a straightforward process that begins on dedicated platforms. These NFT platforms provide you with the ability to mint and upload your artwork directly onto a blockchain. This comprehensive guide will walk you through the necessary steps involved in crafting an NFT –
Figuring out the purpose of creation (what you want to create)
NFTs are commonly associated with digital art, which can take the form of an image, an audio composition (like a song), or even a brief video clip (such as an animated GIF). The primary objective is to generate an exclusive piece of digital media that can be sold, similar to the process of selling a painting in an art gallery. Creators derive value from NFTs due to their uniqueness, offering something that cannot be possessed elsewhere.
Choose an appropriate Blockchain
Numerous blockchain networks exist, each touting itself as the ultimate choice regarding scalability, distinct attributes, or capabilities. However, it's essential to go beyond the buzzwords, rebranding, and marketing hype. When selecting a blockchain platform for development, it's crucial to consider the characteristics that genuinely hold significance.
In all honesty, answering this question isn't straightforward. The decision is influenced by numerous external factors, including the quality of documentation and the robustness of the community supporting the platform.
Set up your NFT wallet
When selecting a blockchain, it is essential to have a compatible digital wallet for storing your NFT. To set up a wallet, download the crypto wallet app, choose a username and password, and keep your private keys and recovery phrase offline for backup. This ensures the security of your NFT by aligning the blockchain and wallet and taking necessary precautions to safeguard your access to it.
Picking an NFT platform
With the increasing number of NFT platforms available, it's important to note that the top-tier ones go beyond just NFT creation. They provide comprehensive marketplaces for listing and selling NFTs. These platforms offer a range of services that cater to the needs of creators and collectors, ensuring a seamless experience throughout the entire NFT lifecycle. By utilizing these full-service marketplaces, creators can showcase their NFTs to a wider audience, and potential buyers can explore a diverse collection of unique digital assets, fostering a vibrant ecosystem for the NFT community.
List the NFT for sale
Listing an NFT for sale is easy and usually free on most platforms. After creating and storing your NFT in your wallet, select the platform and set the desired price and duration for the sale. Fill in the sale details and create the listing by signing a few transactions in your digital wallet, which may involve paying transaction fees on your chosen blockchain. We now know what NFTs are and how to make NFT. Now we'll talk about how NFTs can be used as a tool in marketing and the essence of it.
Why use NFT for marketing?
Investors possess numerous motivations for desiring to acquire assets that have been tokenized into Non-Fungible Tokens (NFTs). Several benefits associated with investing in NFTs comprise the following:
NFTs give a chance to all
Tokenized assets offer accessibility to all, allowing seamless transfer of ownership worldwide. By converting assets into NFTs, ownership becomes more efficient and easily transferable, enabling anyone to engage in investment opportunities with ease.
The blockchain secures ownership
Leveraging blockchain tech enhances asset security and transparency, providing investors with a more secure ownership experience. Blockchain technology protects an investor's assets by digitally signifying ownership. Additionally, it brings greater transparency to asset ownership, ensuring a transparent and accountable record of ownership transfers.
Increases customer engagement
NFTs are powerful tools for companies to enhance customer experiences and broaden their reach. They provide a fresh avenue for brands to engage with a larger audience. NFT holders with a vested interest are more inclined to support the business. As the company thrives, the value of its NFTs appreciates, further incentivizing investor loyalty and engagement.
What is NFT marketing?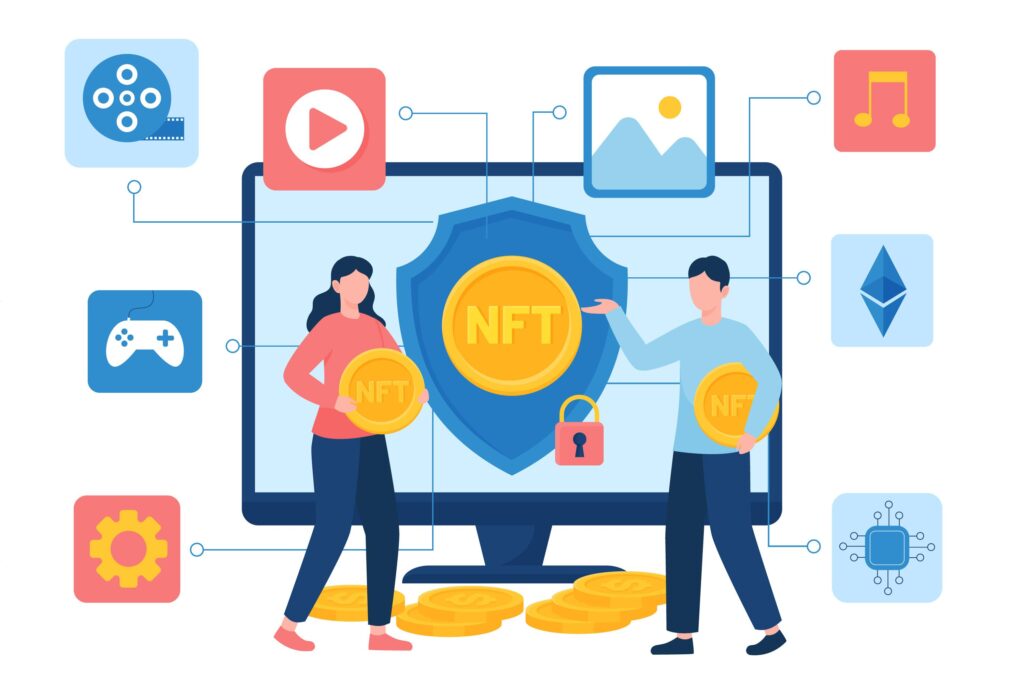 NFTs are continuously evolving and have become essential for businesses to succeed. However, the challenge lies in effectively marketing one's business to achieve desired outcomes. In such situations, it is wise to consider engaging marketing services from a reputable company to establish a leading position in the industry. The opportunities offered by NFT advertising are, reaching a wider audience, fostering trusted relationships, and boosting revenue by leveraging popular platforms and emerging trends. Now, let's take a look at five ways how NFTs can be used for marketing –
Gaming
Games have emerged as prime platforms for NFT marketing, especially with popular titles like Fortnite, featuring intricate graphics and customizable avatars. This opens up opportunities to create and trade NFTs in the form of digital pets, avatar skins, and other virtual gaming assets. Since Fortnite and similar games accept cryptocurrency for in-game purchases, gamers are inclined to invest in these NFTs. Consequently, promoting NFTs within the game and establishing an NFT-centered business model can lead to substantial success. As NFTs gain mainstream traction, the gaming industry possesses a unique advantage to capitalize on this trend and reap its benefits.
Selling tickets
In recent years, the way people purchase goods has undergone a significant transformation. For instance, you can now acquire a ticket for your preferred concert or sports event using Bitcoin and NFTs. NFTs are becoming the go-to virtual tickets for various events like workshops, trade shows, and expos. Their unique and captivating content makes them highly appealing, attracting audiences effectively. Crafting an NFT for a music or sports event can generate immense enthusiasm among devoted fans, resulting in long ticket queues.
Fashion and garment industry
The fashion industry and NFTs might appear unlikely bedfellows, but they have the potential to form a perfect union. The fashion industry is primed to leverage the success of NFTs in gaming. Gucci collaborated with Christie's to auction an NFT that fetched $25,000, while Burberry joined forces with Mythical Games to introduce their own in-game NFT called Shark Blanco. NFTs and the metaverse offer fashion brands and designers a colossal opportunity to create, market, and sell digital apparel to millions, even billions, of users who desire the latest fashion trends for their virtual personas.
Pre-ordering of products
Companies and entrepreneurs strive for increased pre-orders, benefiting their cash flow and providing a measure of public interest. Gary Vaynerchuk's innovative employment of NFTs in pre-orders is an exciting example. Gary Vee presented an irresistible proposition for NFT enthusiasts in his latest book, Twelve and a Half. During a specific timeframe, every twelve books purchased resulted in receiving one of Gary's highly sought-after NFTs. This strategy proved immensely successful, leading to such overwhelming pre-sales that the book's release date had to be postponed by a fortnight.
As NFTs revolutionize the digital landscape, businesses seek innovative ways to leverage this trend for marketing success. At Skytrust, we understand the power of NFTs and their potential to transform your brand's reach and customer engagement.
As a leading NFT marketing agency, we specialize in helping businesses navigate the dynamic world of NFTs and create impactful marketing strategies. Our team of experts will guide you through the entire process, from conceptualization to execution, ensuring that your NFT marketing campaign stands out in the crowd.
Whether you're in the gaming industry, fashion and garment sector, or any other industry looking to harness the potential of NFTs, our tailored solutions will help you achieve your goals. We'll collaborate with you to develop engaging NFTs that captivate your target audience and drive customer loyalty.
Be with Exploring the Realm of NFT Marketing, your trusted NFT marketing agency, to guide you through this exciting digital frontier. Contact us today to discover how we can help your brand thrive in NFTs and achieve unprecedented marketing success.