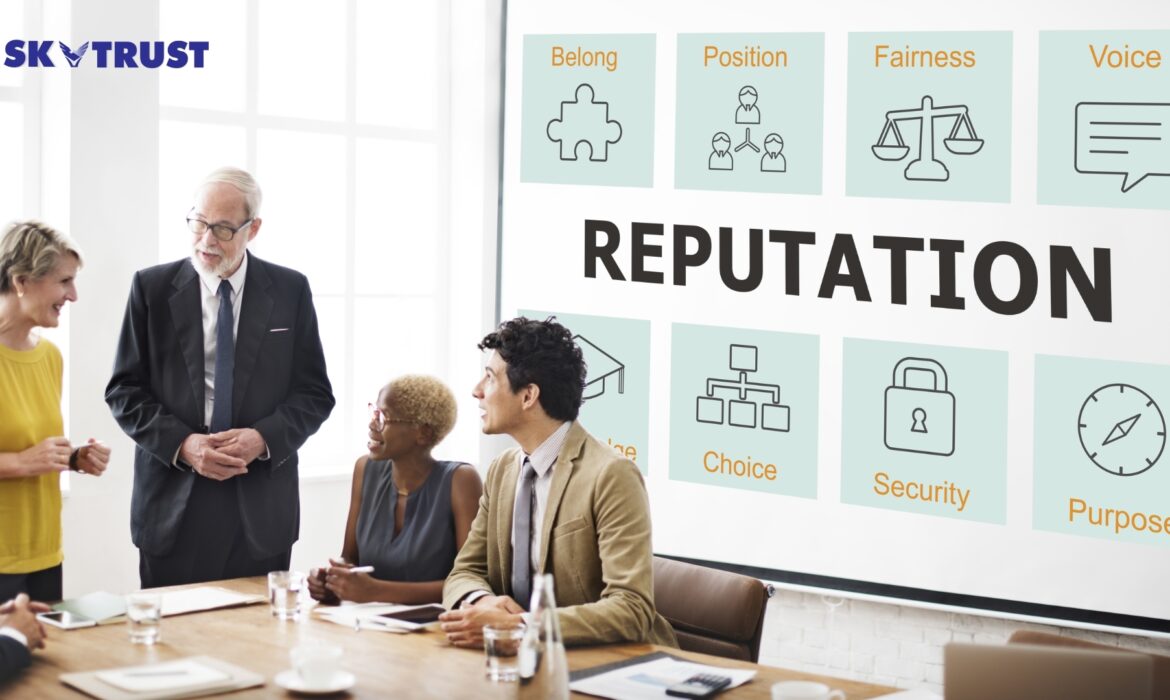 The internet is the first place to go whenever you want to know about something. Be it gathering information from the search engine, sourcing some diet-oriented recipes, booking a romantic date at a Michelin-star restaurant, or simply knowing how a certain business is doing. Moreover, it is the perfect place to know what you did last summer and where you hid the body. Even if you did something 10 years ago and happened to share it over the internet, the chances of it resurfacing are 90/100. So be ready to face the consequences of your past deeds, especially when you are running a business.
OR…you can get assistance from an online reputation management company in the USA like SkyTrust that will help you emerge victorious from the typhoon of an unwanted reputation of your business over the Internet. A bad reputation in the digital world can sidetrack you from your business goal where you get to focus on repairing something that is not causing You or Your Customers any harm but definitely the reputation of your business. Our ORM veterans have years of experience in the industry to deal with any sort of reputation damage and help you get back on track.
What is Online Reputation Management?
Under ORM, your business or brand's online reputation is monitored, influenced, and managed for better optimization and better reputation building. It is an amalgamation of numerous strategies and tactics that ultimately work towards shaping people's outlook towards any entity, product, or person under the sun. The techniques include but are not limited to Press Releases, social media interactions, etc. The core intention of ORM is to put together an online image of your business or brand by alleviating negative information and simultaneously upholding such an online presence that is to your best advantage.There is no lack of online reputation management companies out there who can facilitate you with ORM services but all that matters is "who does it differently". Here we are enumerating some of the trending practices we can help you integrate into your ORM strategies and take you one step closer to your positive online reputation.
1. Get Personal
Gone are those days of putting up content online and leaving it up for the audience to comment and share their feedback. It is high time you address these comments and feedback, be it negative or positive, and establish a two-way communication between your business and the end user. Being an online reputation management service provider, we understand the importance of being prompt with responses and we do it diligently without missing a beat. Whether it is an end user who is not satisfied with your product/ service or someone who is facing troubles utilizing the same, we are there at their service to guide them well so they leave with a positive experience of your offerings.
2. AI Integration
In this fast-paced world of 'digital everything', generating quality content as soon as possible is not a hard nut to crack, all thanks to generative AI. The internet is full of paid as well as free AI tools that can help you generate press releases, social media posts, blogs, articles, and whatnot, in a matter of seconds. Just give specific instructions to the bot and it will come up with meticulously and well-searched content for your ORM strategy. All you have to keep in mind is, even your competitors might be using it so the chances of content being the same are quite high. So editing of content is still required to avoid plagiarism and we do that immaculately.
3. Video ORM
When was the last time you read an article or blog specifically targeted at your industry? And when did you last see the video related to the same? This is exactly what is happening in this digital world. The attention span of people is decreasing day by day where textual content is losing its charm and video content consumption is on the rise. Now every other online reputation management agency will not tell you this and will keep working with textual online content to build a good reputation for your business or brand, sidelining the importance of visual and AV content that can actually work wonders in grabbing your target audience's attention.
4. Meme Marketing
By meme, we mean a form of conduct that is imitated and transmitted, often carrying a pre-existing undertone with it. From a hashtag to a trend, a challenge to an old celebrity video, it could be anything. But your audience should be able to relate to it. Although creating a buzz around a meme or viral trend is not something that you should take casually because your audience decides if it is relatable or not. So we try to take part in it on your behalf, adding your brand's personal touch to it, and amplifying its significance in your positive result-yielding online reputation management strategy. An ORM Agency like ours can guide you to make the most of meme marketing.
5. Go Local
To fit right into the culture, taboos, values, and ethics of a region or local crowd, we optimize the ORM strategy accordingly. It has such a high significance in the world of marketing that even MNCs are integrating this localizing aspect into their marketing tactics, whenever going local across the globe. For this sole purpose, we conduct thorough research on your brand message, its past impact (if any), its tone, dos and don'ts, and others, and ensure that it doesn't backfire with a bad online reputation. Among our online reputation management services, we pay special attention to this aspect.
Now you know how we are doing things differently at SkyTrust that will take you one step ahead of your competitors and build your impeccable online reputation. We don't just claim to be the best online reputation management company in the States that is a 'master of all trades', we walk the talk with an exceptional track record of satisfied clients. To leverage the power of the internet and build your reputation in a constructive manner, get in touch with us. Let's join forces for a better tomorrow!